Why a school paper is a must-have communication tool
Are school papers a thing of the past? Not at all! In fact, a school paper may prove to be the missing piece of the puzzle for your school! A paper ensures children, teachers and parents feel involved with the school. That keeps both children and parents up to date with the school's goings-on. And the BOSblad from the Dr. Bos School in Utrecht (the Netherlands) is living proof of it. Two months ago, their newspaper went to print for the very first time! Find out more about why is a school paper a real must-have!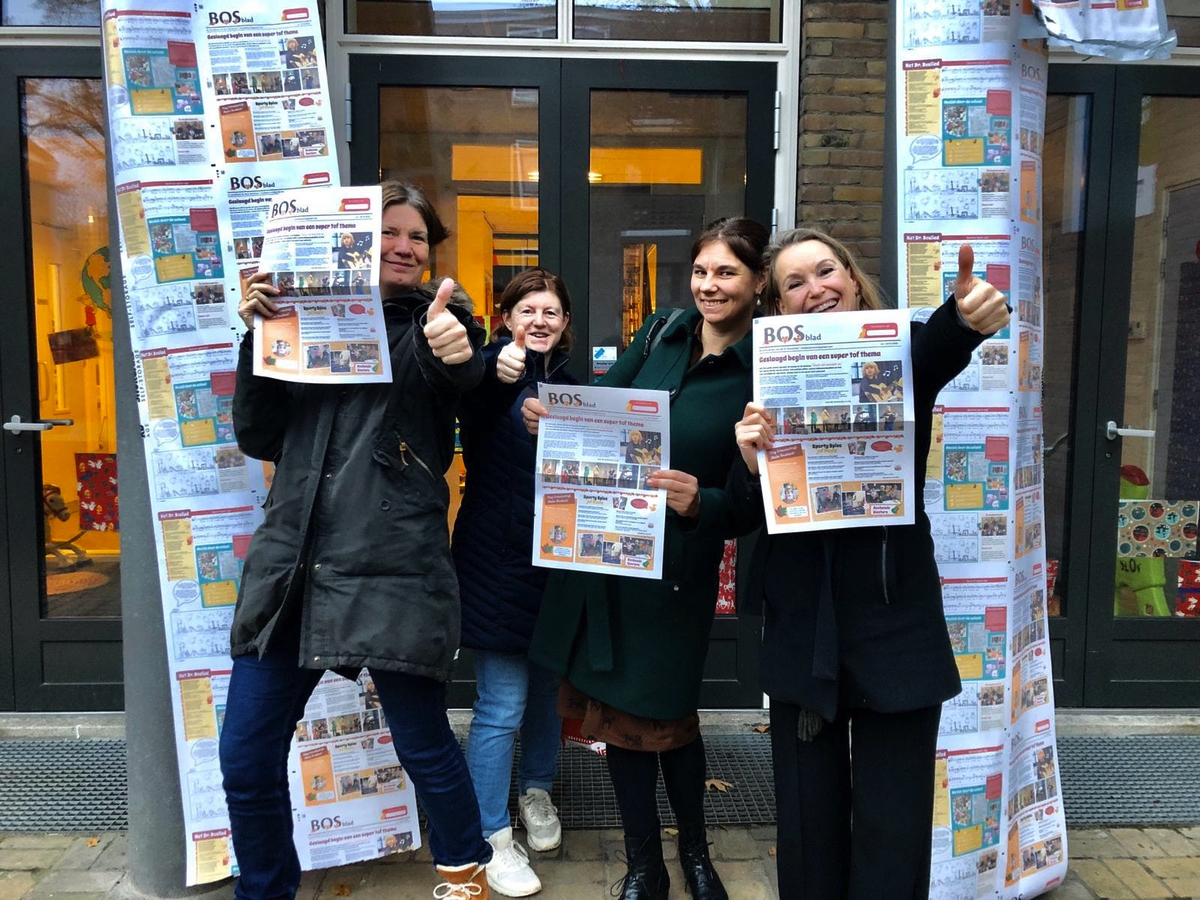 The launching of the new school paper the BOSblad
The first edition of school paper the BOSblad
A printed paper is still an important communication tool. And we think the editorial team of Dr. Bos School in Utrecht would agree. Dr. Bos School already had a paper, but the editorial team was looking to publish a new paper that would be more accessible to both pupils and parents. The new school paper would be simple, engaging and playful. This could be achieved by placing school themes, interviews, puzzles and more in a fun and colorful blueprint. To make sure the paper was tailored to pupils between 4 and 12 years old, the editorial staff set up a children's editorial team. That way, pupils and teachers can decide on the content of the newspaper in tandem.
Collaborating with Happiedays and Genscom
Happiedays is an online tool that allows you to create your own newspaper as well as have it printed and delivered. It's no surprise then that the editorial staff soon stumbled across this platform in their search for a new school publication. But Happiedays is a Genscom product and spotted the opportunity to refer the Dr. Bos School to more fortuitous services with Genscom.
Genscom provides organisations that are looking to publish on a regular basis with a custom online platform with which they can create and print their own newspapers, magazines, posters, folders, and more. This online platform is similar to that of Happiedays and may prove financially advantageous for organisations in the long run. The editorial staff at Dr. Bos School decided that Genscom was the perfect fit!
Genscom handles the entire workflow, from editorial input up to and including optimized postal distribution. The editorial staff asked Genscom to come up with a fun and creative newspaper template for the BOSblad. With the editorial team's guidelines in mind, our experienced graphic designers created a fresh and playful design without losing sight of the look and feel of an authentic newspaper. The BOSblad kicked off with an autumn edition: autumn leaves and animals color the pages of the school newspaper.
An enthusiastic reception
The launch of the BOSblad was a real hit! Staff decorated the school entrance and dealt out copies of BOSblad. Everyone loved the end product and the editorial team received nothing but praise!
"What an incredibly beautiful school paper"
"What a fun happening the school has turned the launch of the new newspaper into"
Pupils, parents and teachers alike were pleasantly surprised with the new paper. Both content and layout were greatly appreciated. The newspaper has proven great added value and has brought everyone closer together.
5 tips for a fun school paper
Place school themes in the spotlight.
Interview pupils, teachers or perhaps even parents and let them say a few words. Take pictures of them and place them in the newspaper. Most children will love featuring in the newspaper.
Come up with different categories that feature in each edition: song section, book corner, joke box, etc.
Add puzzles, riddles, coloring pages and other fun elements to your newspaper. Your pupils would love nothing more. And that way the newspaper can be put to good use!
Last but not least: create a colorful and playful layout for your school paper – or have one of our experienced graphic designers create one for you.
There you go! Now you're ready to start making your own (school) paper. Interested? Don't hesitate to contact us via info@happiedays.be or koenraad.coppens@genscom.be