Tips and tricks for a personalized birthday newspaper
Birthdays are one of those special moments in a person's life that should never go by unnoticed. And although we may claim we don't want anything for our birthday, it's always fun to have family or friends surprise us with an unexpected gift. So, time to pull out all the stops and shower your loved one with the attention they deserve! A personalized birthday newspaper is a fun and unique way to wish someone a happy birthday!
Turn your newspaper into the perfect birthday gift
Finding the perfect birthday gift isn't always as easy as it seems. How do we know if our gift is original enough, creative enough, personal enough? Luckily, you're guaranteed to hit the mark with Happiedays! A personalized birthday newspaper means that someone has taken the effort to go the extra mile.
With Happiedays, you can create the perfect birthday gift for your husband, wife, mother, father, daughter, son, friend, neighbor, colleague… Here are a few tips and tricks for an original birthday gift:
Start by thinking of a fun and catchy title for your personalized birthday newspaper. For example: 'Jack turns 50', 'Emma's Sweet 16', '40 is the new 30', or 'It's Olivia's birthday, hooray!'.  It's always fun to come up with a title that relates perfectly to the person in question.
Be sure to wish the birthday boy or girl a happy birthday and to send your best wishes for the upcoming year.
Create a timeline highlighting the key milestones of that person's life (…and don't forget the mandatory vintage childhood pictures!). Include anecdotes and stories about their hobbies, their wedding day, their career, their childhood, their favorite meal, etc.
Try and include some fun facts and figures from the birthday boy or girl's date and year of birth. Why not trace the newspaper headlines from the day they were born, for example?
Let loose and be creative! Maybe you know some fun facts or secrets about them: "50 Facts for 50 Years". Or maybe your friend is a real Jane Austen fanatic and you want to surprise them with a Georgian-inspired newspaper dedicated to her favorite author. The possibilities are endless.
A personalized birthday newspaper shouldn't be too serious. You undoubtedly know the birthday girl or boy inside and out, so lighten the mood with a funny quote, an inside joke, or an embarrassing story from your childhood years together. Do a quick google search for "funny birthday proverbs" and pick out the most relevant. Or poke some fun good-hearted fun and remind your friend or family member of the fact that they're "getting old". There are lots of different ways to give your birthday wishes.
Why not make a newspaper comic strip using the birthday boy or girl's photos? Or a crossword puzzle entitled "What do you know about Charlie?". Don't be afraid to think outside the box!
Use lots of pictures and other fun content to let the birthday boy or girl know how much they mean to you. For a personal touch, be sure to ask friends and family to say a few words. Personalized birthday messages or a special birthday poem written by close friends is a great way to show how much you care.
Think outside the box for those milestone birthdays. An 18th birthday, for example, is a great opportunity to make a list of all the responsibilities that come with adulthood or to write a spoof newspaper article informing the readers that the whole neighborhood has been forewarned.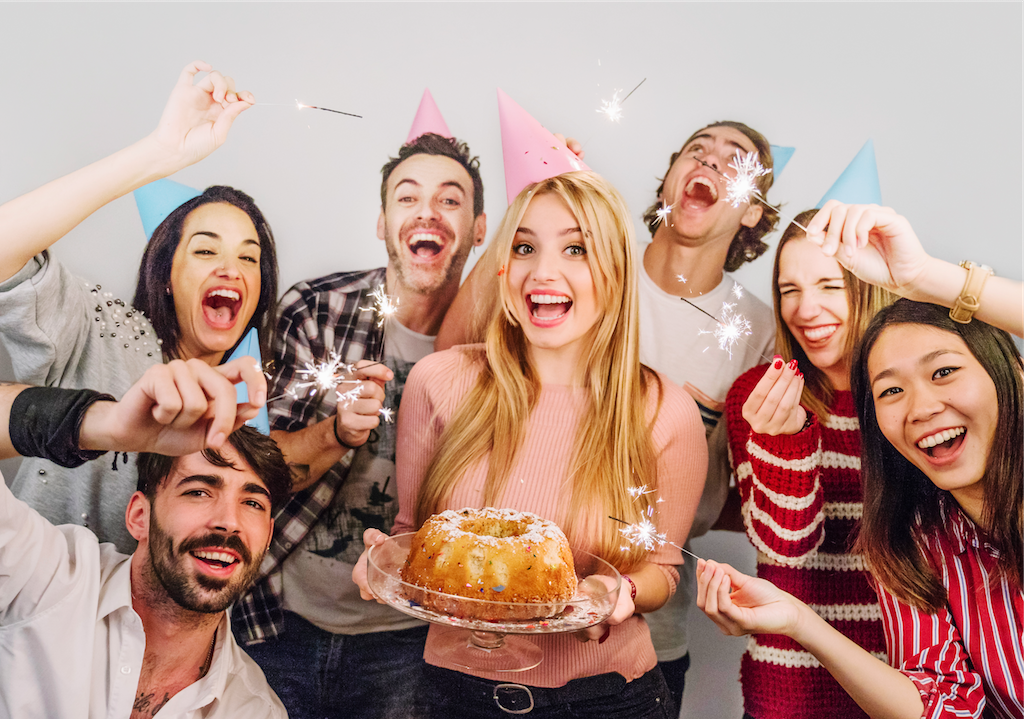 Turn your newspaper into a unique birthday invitation
A personalized birthday newspaper makes for a fun and original birthday invitation. Traditional birthday cards or invitations simply don't offer the same possibilities. With Happiedays, you have full creative control when making your party invitations, meaning you can make your party invitation as trendy, as personal and as unique as you'd like!
Are your children throwing a birthday party, for example? Make your child's birthday party extra special by turning your personalized birthday newspaper into a unique party invitation. That way, you can also provide the parents with all the necessary information. Tip! For kids' parties, it's also a great idea to incorporate fun games into the birthday newspaper: things like coloring pages, cut-out birthday crowns, tips for great disguises, suggestions for party games, and so much more! Children love arts-and-crafts projects, and your newspaper will give them an idea of what the birthday party has in store!
The possibilities are endless! So don't be afraid to think outside of the box. With the help of our online editor, creating your own birthday invitation is a piece of cake (pun intended!). And by taking full creative control, you can ensure that your invitation is truly one of kind.
Checklist for your birthday invitation
Date and time: Always mention when your birthday party is taking place. Also, be sure to send out your birthday invitations well in advance to make sure your guests haven't already made other plans.
Venue: Where will the birthday party be taking place? Be sure to give the name of the venue and the exact address.
RSVP: How would you like your guests to RSVP? Via email, text message, or a phone call?
Type of party: Are you inviting your guests for a drink, dinner, night out…? Tip: don't give away everything – surprising your guests can also be a lot of fun!
Birthday gift tip: It's always a good idea to give your guests gift suggestions. There's nothing worse than receiving a birthday gift you don't like or need. And your guests will also appreciate knowing what gift to get you.
Theme/dress code: Is there a specific theme or dress code you want your guests to dress up for? Give your guests the necessary information in your personalized birthday newspaper invitation.
For a more extensive checklist or for more invitation tips, take a look at our checklist for your unique party invitation on our blog.
Want to make your own personalized birthday newspaper? Get started immediately with our newspaper templates. Our birthday templates will give you a great idea of all the possibilities and are bound to get the creative juices flowing. Be sure to check our birthday theme page as well as our Pinterest page for more fun ideas and extra tips and tricks that are guaranteed to turn your birthday party into a major hit!