Get the 2020-21 school year off to a strong start with your own school paper
As we look ahead to the 2020-21 school year, we're approaching a school year that will look and feel different in many ways. That's why it's more important than ever for schools to maintain clears line of communication with students, parents and teachers. Surprise your school with a school paper filled with activities, assignments, photos, important guidelines and regulations, and more to ensure a safe start to the new school year.
Creating your own school newspaper online
Happiedays is an online tool that allows you to create your own newspaper as well as have it printed and delivered. We've already prepared several templates specially tailored to children, parents and fellow teachers. Simply replace the images and texts with your own content with the help of our simple online editor. You can also design your paper from scratch with a blank template that you can then fill with shapes, images, icons, etc. That way, you can ensure that your school paper serves as an effective communication tool. Is your paper ready? Go ahead and place your order! We'll make sure it's delivered to students, parents and colleagues in no time!
Communicating clearly with students and parents
Making your own school paper has never been so easy thanks to our user-friendly online editor. But how do you make sure you use this unique communication tool effectively? We've summed up several fun ideas for you to surprise both students and parents with a unique paper:
PRACTICAL INFORMATION: HOW TO PROCEED?
Safety measures: With the pandemic bringing about many changes, there are still many questions around what the school year will look like. Are face masks compulsory? Is the school offering any distance learning solutions? What regulations are in place if a member of staff or pupil were to test positive? Use your school paper to communicate clearly with children and parents so that everyone feels confident that they're returning to a safe environment.
Latest developments: is there more news you want to share with students and parents? Have there been any renovations in the school (new chemistry lab, new computers, repainted classrooms, etc)?  Are there any new remedial courses or after-school programmes being offered? Which important dates should children and parents mark on their calendars? Keep everyone up to date with this useful communication tool.
Introductions: Are there any changes to the teaching staff? Allow new teachers and staff members to introduce themselves and look ahead to a challenging but exciting new year.
RECIPES, RIDDLES, CRAFT IDEAS, STORIES AND MORE….
Recipes: crumpet pizzas, apple 'doughnuts', sticky pork lettuce wraps, pineapple & pork skewers...
Games: sudokus, riddles, crossword puzzles, spot the 10 differences, connect the dots…
Arts and crafts: marble labyrinth, wind chimes, musical instruments, photo ornaments…
Reading corner: reading tips and entertaining stories
PICTURES
Don't forget to add lots of fun photos from the previous school year to your school paper. Create a photo-reportage and conclude with a giant group photo!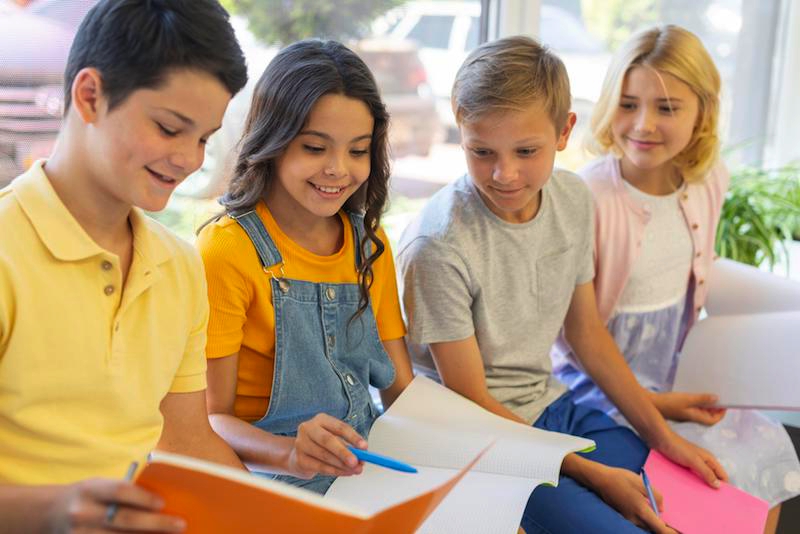 The 2020-2021 school year will look and feel unlike any previous year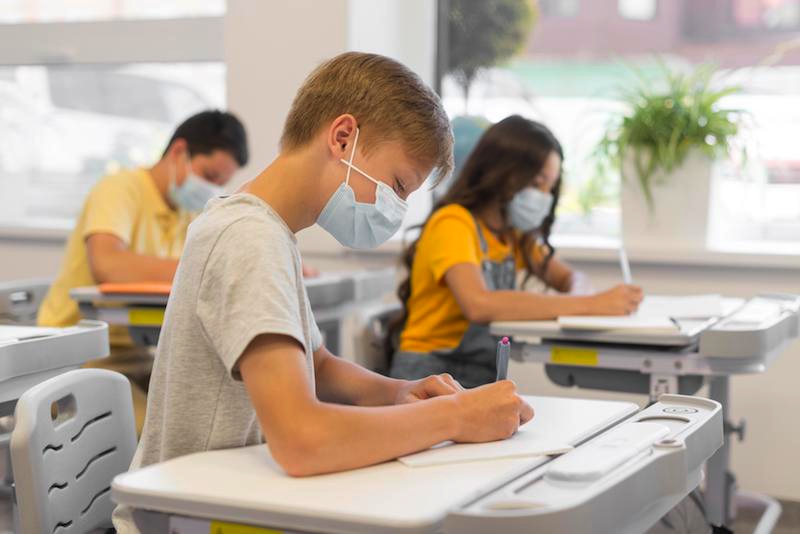 Use your school paper to keep clear lines of communication with students, teachers and staff
Make a school newspaper with Happiedays
As the new school year approaches, all we can be certain of is that children will be returning to considerable changes. Informing students and parents of the new guidelines and protocols will ensure a safe start to the new year. And a school newspaper is the perfect communication tool to do just that!
Get started immediately with our newspaper templates. Our school-themed templates will give you a great idea of all the possibilities and are bound to get the creative juices flowing. Be sure to check our other fun ideas for a back-to-school paper that are guaranteed to get everyone excited for the start of the school year.