Happy Halloween! Celebrate the spookiest day of the year with your own Halloween newspaper
Halloween is fast approaching! On 31 October, we celebrate the scariest day of the year with scary costumes, creepy jack-o'-lanterns and frightening ghost stories! From baking treats to trick-or-treating, everyone loves coming up with fun and original Halloween decorations. And what's more original than making your very own Halloween newspaper? There are lots of fun and creative ways to create a paper that will have friends and family shaking in their boots! At Happiedays, you can make a Halloween newspaper completely from scratch and have it delivered to your friends' doorsteps.
Throwing a spook-tacular Halloween party
Have you organised a guided ghost tour through the streets of your town, village or neighborhood? Then let friends and family know with your own Halloween newspaper! Invite all your friends to experience the dark and ghostly secrets of your neighborhood.
Besides sharing all the necessary practical information, such as the time, meeting point and mapped-out route of the ghost tour, you can share some of your scariest ghost stories together with eerie images of vampires, bats, spiders, ghosts and other frightening creatures to get your readers into the spirit of this holiday!
Extra tip! For an especially spooky surprise, you can adapt each copy of your newspaper to feature a ghost story personalized with your reader's name – making the story all about them. Freaky, right?
Arts and crafts for the whole family to enjoy
If you're organizing more family-friendly celebrations, there are lots of fun activities you can feature in your Halloween newspaper! Get your kids excited for the holiday with a paper filled with Halloween-themed arts and crafts projects to get the whole family involved!
Share your best recipes for your famous sand-witches, monster much or cheesy spiders, a step-by-step guide on how to make your own jack-o'-lantern, recommendations for Halloween-themed books or ghost stories, a mapped-out route of the trick-or-treat route, or tips and tricks on the art of good costume design or face makeup.
Extra tip! If you're throwing a kids' party, a paper filled with fun activities, recipes and arts and crafts projects is a fun invitation and teaser to get kids excited!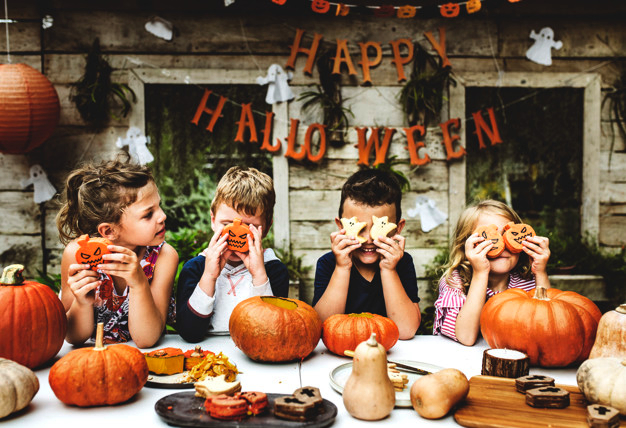 Fill your paper with fun activities, recipes, costume tips and more!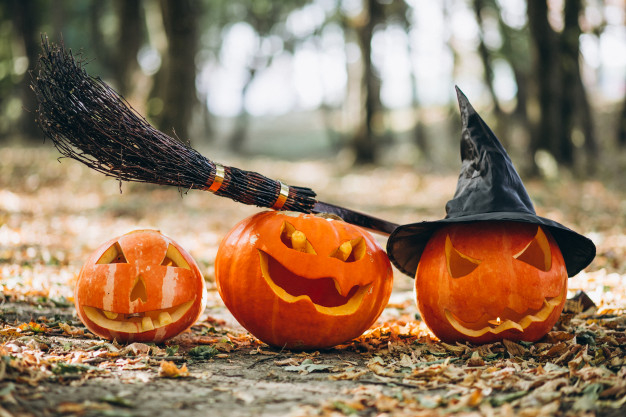 Create a paper that will have friends and family shaking in their boots!
Make your Halloween newspaper with Happiedays
Do you want to celebrate Halloween with a unique and original newspaper? Get started immediately with Happiedays! Creating your own newspaper is not only a fun and original idea, it's also super easy to do! Thanks to our user-friendly online editor and Halloween-inspired templates, you can get started immediately! Or opt for a blank template if you'd rather start from scratch. Design your Halloween paper with your own images, stories, icons and content. We'll have it delivered to your doorstep. Will you be brave enough to leaf all the way through? Or will the front page have you hiding for cover?